Marty was appointed MBE for Services to Popular Music in the 2017 New Year's Honours List
Marty has been officially recognised by the official UK charts company the BPI
He celebrates a rare feat – securing eight consecutive decades of British singer/songwriter success on the Official Singles and Albums Charts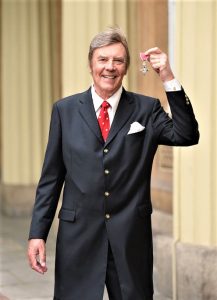 'I feel very honoured to have received an MBE' Marty Wilde
Marty Wilde was born Reginald Leonard Smith in a nursing home in Blackheath on April the 15th 1939, he was the only son of Reginald and Jessica Smith.
Marty lived in Greenwich until he and his mother moved to different parts of the country to follow his father, Reg senior, who was a Sandhurst trained Sergeant  posted to Devon – and then on to Capel Curig North Wales to help train new army recruits for the war effort, and Marty attributes his time spent in these beautiful areas to the great love he has for the countryside.
When the war finished, Marty and family moved back again to Greenwich, and Marty began school at Halstow Road Primary School. He was there for several years before he went on to Charlton Central Secondary Modern School, finally leaving at the age of 15, and in his own words "totally unqualified" where he became a messenger boy in the city of London for a firm of brokers in Rood Lane, Eastcheap, and for a couple of years got to know Eastcheap pretty well.
Whilst running from office to office in the day time with the latest market prices of pepper and rubber, he would day dream about his future and window gaze in all the expensive tailor shops windows just hoping something exciting might happen for him and that one day he might be able to afford them – since he desperately wanted to become a singing star. He was fortunate enough to have learned to play the ukulele at a young age and this was later to prove fortuitous as the uke has the same tuning as a guitar, so, making it easy for him to move on and play the teenagers favourite instrument of the time. Marty formed a group with some of his local friends called Reg Smith and the Hound dogs, and he and the group would eventually play with some success at local gigs in the South of England, until eventually, bit by bit, word got around about this new band. As news about the new band began to filter to London, Marty was approached by Joe Brunnely, a music publisher.
Joe offered Marty two weeks work as a solo artist in the West End of London. One week would be at the Blue Angel night Club, and the second week being at the Condor club which was in Soho. The Condor Club attracted lots of the personalities and stars of the day, such as Sterling Moss, and it was also rumoured – Princess Margaret. Whilst earning £1 a night plus a bowl of spaghetti, Marty was noticed by Larry Parnes, who, as Tommy Steele's manager, was the most powerful manager in the UK, but when Larry went back stage to speak to Marty, he was told Marty had gone home rather swiftly, as he had to catch the last bus home to Greenwich. Marty had no idea that he had been spotted by the country's number one manager. However, Larry, being the business man he always was, managed to obtain Marty's address from the owners of the club, and the following day he headed down to Greenwich with a contract in his pocket and approached his parents to sign Marty up. Marty was under age to sign for himself.
The contract was signed and the career of Marty Wilde had begun….
Music
Marty is still busily touring the nation's concert halls and getting a great reaction from audiences up and down the country. His own show, "Born to Rock 'n' Roll", in which he performs with his Wildcats has received wonderful critical acclaim, and has not only attracted his original fans, but a whole host of new ones who are just discovering the man and his individual brand of Rock n Roll. The show has acquired a cult status and is definitely one not to be missed.
Collectors are showing a lot of interest in Marty's records. In a long recording career, he has produced many singles and albums, and these now fetch high prices, prime examples of the best of pre-Beatles British Rock and Pop. Not only that he has written countless songs for other recording artists including Tom Jones, Status Quo, Lulu, Adam Faith, Joe Brown, The Casuals, Mac & Katie Kissoon, Kim Wilde, Roxanne Wilde, Peter Shelley, Hot Chocolate, Capricorn, and so many more.
Many of his releases on the Philips label issued at the end of the Fifties and early sixties are now highly collectable, as are those that followed on Columbia, Decca, Bus Stop, Magnet and KRL labels and not forgetting those rarities on Epic USA , Heritage USA and Philips France. Some were included on the 4-CD Box Set, A Lifetime In Music 1957-2019. This unique 4CD set, complete with a 28 page booklet is available at Marty's shows and from the Merchandise page on this website . 
Check out the current DISCOGRAPHY page for a list of Marty's releases to date.
Breakthrough
Marty's first releases failed to make the UK charts,  his big breakthrough finally came with the release of "Endless Sleep", which entered the UK charts in June 1958. It reached number 4 and stayed in the charts for fourteen weeks. It was a doomy, death-edged sort of song that seemed somehow suited to the moodiness that Marty put over on stage and television, and he became a sex symbol the length and breadth of Britain.
His next UK chart hit was "Donna". Written by Ritchie Valens, this was to go one better in the charts, peaking at number 3 early in 1959 and remained in the top fifty for four months. Sadly, Ritchie Valens died shortly afterwards along with the legendary Big Bopper and Buddy Holly in a tragic air crash.
Marty's chart progress was maintained with "A Teenager in Love" which, despite intense competition from many other artistes, managed to reach number two in the UK.
His next big success was "Sea of Love" which was one of the few Rock n Roll records to have a harp as opposed to a guitar playing the lead parts.
Whilst fans in the UK didn't have much of an idea about his American counterparts or what they looked like, they knew all about Marty Wilde's towering appearance, and dominating stage presence, which was to pay-off in the earlier stages of his push to stardom. Marty's manager, Larry Parnes (who was, incidentally, also Tommy Steele's Manager at the time), had booked him into the plush Winston's Club in London, and Josephine Douglas, a television personality in her own right,  also a highly influential television producer, decided that he was a perfect new talent to expose on the Saturday Night TV series which had started in 1957. ("OH BOY"!)
Marty's appearance added weight to Larry Parnes's approach to Philips Records' leading Producer, Johnny Franz. Johnny was himself an excellent pianist and talent spotter, and he quickly agreed to sign Marty up.
Royalties
The contract was, in the event, a big one, with sizeable guarantees alongside worthwhile royalties. For Marty, it was the big breakthrough. Even though some of the early releases did not register as he might have hoped, it now meant that he had publicity back-up from a major record company, as well as the promotional skills of Parnes.
When Jack Good started his exhilarating "Oh Boy!" TV show, he immediately booked Marty – and Marty really shone through in this setting where the emphasis was on capturing the essential atmosphere of a live Rock and Roll show, with the cameras 'following' the action rather than 'containing it' as they do in so many TV shows today. Marty says that he learned more from this particular show, and from Jack Good, than from almost any other show in which he subsequently appeared. The follow-up TV show, "Boy Meets Girl", gave Marty colossal exposure, and for the first time, the chance to show what he could really do not only as a singer, but also as a compere.
"Bad Boy" was a good chart result for him in 1959. The song was covered by Robin Luke in America but Marty's original achieved more success there and charted on the US Billboard chart. Being self-penned, it provided the breakthrough that boosted his confidence as a hit songwriter which was later to play such a big part in the careers of many other artists, including Status Quo, Lulu, The Casuals and, of course, his daughter Kim.
"Jezebel" made the Top Twenty in mid-1962, a very good revival rather than a cover version of an oldie which had been a massive worldwide hit for Frankie Laine. Also in that year "Ever Since You Said Goodbye became a hit too.
Marty's DISCOGRAPHY
Films
Marty's first silver screen appearance was in the black and white film "Jet Storm". Later, he was to make his first and only western, "The Hellions" which was filmed in South Africa – followed by "What a Crazy World" in which Marty appeared with his old friend Joe Brown,  often shown on television on channels like Talking Pictures and, lastly, an appearance with David Essex in "Stardust", a huge box-office smash.

Marty has appeared on so many television programmes, as have his own recordings and those he has written, check out this link to the Internet Movie Data Base